Congratulations to the winners of the APRU Rampage Invitational Tournament.
Revisit the tournament finals on YouTube:
Students in the Asia Pacific Rim to participate in the Rampage Invitational Tournament to build community and connectivity through competition. In a 5v5 Valorant title, students were inspired to connect and support for one another.
APRU Rampage Invitational Tournament gave students an opportunity to build community across borders and universities to participate in competitive and exclusive tournament series.
We thank the partners including: adidas, Planet9, a global esports community platform for gamers and launched by Acer in early 2020, Cyberport Hong Kong and Nexten for their support of the students and this tournament.
We thank all the 70 students, 14 teams, from 8 universities for their participation in this tournament and we look forward to providing more opportunities for working together across borders.
Winners:
Asia region: Puffy Gang from Nanyang Technological University, Singapore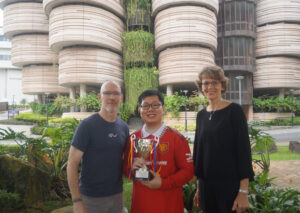 Latin America region: eSports Uchile from Universidad de Chile, Chile
North America region: UHEsports from University of Hawai'i at Mānoa, USA
List of Students from Winner Teams
1st Place of Asia:
Puffy Gang
Nanyang Technological University
Singapore
Gavin Wong
Tan Wei Ang
Japhet Tan
Edan Kang
Ivan Goh
Lee Keat Wee
2nd Place of Asia:
HKU SPACE
Hong Kong SAR
1st Place of Latin America:
eSports Uchile
Universidad de Chile
Chile
Nicolás Alexander Figueroa Tangol
Alexis Miguel Garcia Valdés
Pedro Antonio Quevedo Villalobos
Alfredo Alejandro Castillo Gutiérrez
Clemente Ignacio Pizarro Schwerter
Jorge Alexsander de beró Droguett Vargas
2nd Place of Latin America:
Borregos GDL
Tecnológico de Monterrey
Mexico
Jaime Yael Carillo Bejar
Pedro Mariscal Parrilla
Carlo Eduardo Renteria Toussaint
Jorge David Limón Otañez
Eric Oswaldo Valencia de los Cobos
Santiago Mercado Acosta
1st of North America:
UHEsports
University of Hawai'i at Mānoa
USA
Cody Oshiro
Kodi Young
Michael Johnson
Tate Tamaye
Kaveh Esfahani
2nd of North America:
UBC Blue
The University of British Columbia
Canada
Arjun Arunprakash
Arnold Ying
Charles Guo
Adam Kwok
Matthew Ng
For more information about the tournament, please visit the event webpage.